Traveling Along the French Coast
Photos taken during two weeks of traveling along the French coastline. From the Normandy down to Oléron island.

A series of photos taken on a roadtrip along the French coast in late summer of 2019. Starting at the Normandy we made a few stops at Brittany before starting a relaxing beach week at Île d'Oléron.
Stop I: Le Mont-Saint-Michel
The famous monastery island Le Mont-Saint-Michel is one of the must-sees when going to this are of France. Despite being packed with tourists, it's still a worthwhile and impressive destination for a day trip and sometimes one can even find some quiet spots, especially later in the afternoon when most groups depart.
Stop II: Saint-Malo
Saint-Malo is a picturesque city with wonderful old houses, narrow streets, fortifications, and a distinct city shape due to the city completely filling a peninsula. Along the borders of the old city center large harbors are filled with yachts.
Stop III: Côte de Granit Rose
Our next stop was the famous Côte de Granit Rose with its distinctly colored rock formations. We found a simple but perfectly located camping ground at Landrellec for this stop (Camping Municipal de Landrellec). Just a few feet away from the beach and a coastal hiking trail this was a great opportunity to enjoy the sunset out in the nature without needing a long walk back to the tent afterwards.
Since we travelled at the end of the French summer holiday seasons, we were also surprised by many public festivities. In Landrellec we ended up at a harbor festival. At night, this festival surprised us with spectacular fireworks launched directly from the tideland. We didn't expect to see more of them at that time.
In the end, Landrellec was a very nice spot and we probably should have stayed longer instead of rushing further west towards the tip of the Crozon peninsula.
Stop IV: Crozon at Camaret-sur-Mer with Pointe de Pen-Hir
Our next stop was the very tip of the Crozon peninsula at Camaret-sur-Mer. This is a pretty spectacular place with rough cliffs and strong winds. Unfortunately, the weather got pretty bad after one day. So we only stayed one night.
After the beautiful weather in the evening, rain and fog rolled in from the sea and the next morning we visited the famous Pointe de Pen-Hir in heavy fog. This resulted in some very special and moody images.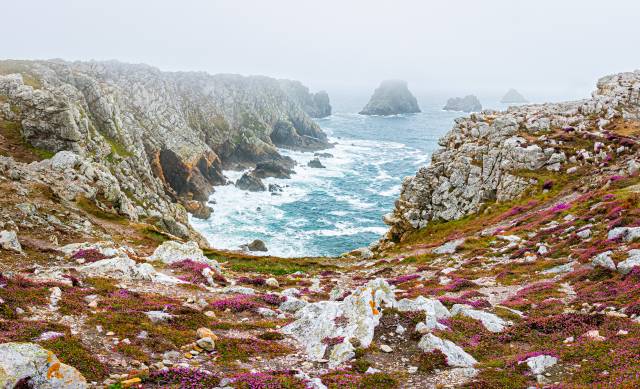 Stop V: Gulf of Morbihan and Quiberon peninsula
After the bad weather we headed further south and - more or less by accident - added an unplanned stop close the gulf of Morbihan. We found a lovely eco camping ground off the coast in between fields and had a good time there despite some more rain throughout the days we stayed there.
Although the gulf is pretty nice, our highlight at this stop was the Quiberon peninsula with its wonderful coastline.
Stop VI: Île d'Oléron
After all the rainy days, we decided to head further south to increase the chance for sunny days. We left Brittany and chose our final destination to be Oléron island, conveniently reachable with a bridge. The nature at Oléron is a lot less exciting and therefore we could use the remaining days mostly for relaxing at the beach, drinking some local white wine.
Again, we found a harbor festival with fireworks.